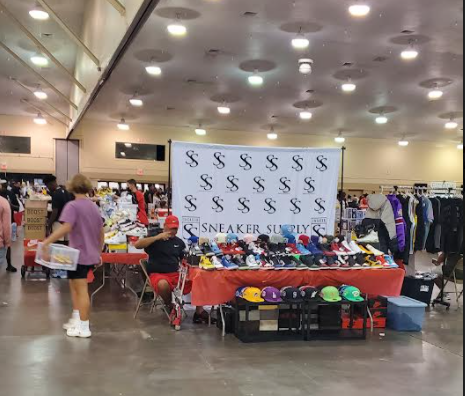 Written by Domincello – 12/13/21
I had the opportunity of going to "The Sneaker Travelers" 4 year anniversary expo in Tampa a few weeks ago.    I knew people took the shoe game serious, but didn't realize how much some of these kicks were going for.  $5000, $7500+ some of the prices were literally in orbit.  I enjoy a sick ass pair of Jordan's like anyone else, but I always have a hard time justifying prices like that.  Personally, Id much rather apply $1000s to our
music studio
, camera equipment, or growing our brand, however I guess everyone has different perspectives & priorities.
 There is a thin line between buying kicks cause you like them vs getting them because you think everyone else will like them.  My personal love for sneakers resides around the fact that I like to look as fresh as possible.  Owning my own Marketing Agency and Label allows me to work from home, so I'm usually wearing shorts or jeans and large selection of Tshirts that I've acquired from local artists and businesses that I support including our own clothing line
Chestology
.   With that, sneakers become the most versatile component in my personal fashion.   In order to make sure I'm getting kicks for the right reason, I usually put list together with color options I'd like to have.  At which point, I then go out on the hunt to find what I'm looking for.  I'm not cheap, but I also don't like wasting hard earned cash for the sole reason of trying to impress someone else so I hunt for the perfect price and pair.  It actually makes the process more enjoyable.
 My main goal was to find some Jordans or AirMaxs with red, yellow, and baby blue.  After scoutin the place a few times, I realized its was gonna be bitch finding everything in a 10.5, the most common shoe size apparently.  At the moment, the NYer in me came out, and I started pushin my way through the lines.  You know how we do, I wasn't about to walk out with nothin.  After finding a few vendors that had "more in the car" shit was on.  To probably protect themselves from going through all their popular sizes in the AM, I realized like a shitty sink, they were slowly drippin kicks out on the floor after an hour or so.  Long story short, I ended up with just about everything I was looking for.
Overall the event was pretty sick.  So many ridiculous sneakers, any collector would be in heaven.   After spending about an hour there, we ended up walking out with 4 pairs of new kicks.   2 pairs of Jordan 1s, along with a pair of AirMax's that I was itching to get for a few months.  Now since I'm not a dick, I couldn't leave my girl empty handed, so we got her some dunks (or low top Jordan 1s, I always forget which is which).    Great success.